Welcome to Winter Term 2018
We are so pleased to sing in 2018 with our Winter Term! New adventures await as we venture forward together… New milestones will be reached, new relationships will be made and old friendships will be strengthened, all done with a song in our hearts. See you all at the treehouse!
Winter Term runs Monday, 1 January to Friday, 30 March, 2018 (12 classes)
Choose your regular weekly slot. Registration includes Digital Home Materials and Playroom Access from Monday to Friday HKD 3,600* 
*Unlimited playroom access on weekdays, excluding public holidays and weekends. No classes on public holidays. An alternative class can be booked in lieu of any classes that fall on a public holiday. Pre-registration required. Make up classes subject to availability. All classes are subject to terms and conditions of Baumhaus, Kindermusik by Baumhaus and Kindermusik with Crisel. For questions, please submit a General Enquiry here.
New Names for Kindermusik Classes
With these new Levels, Kindermusik International allows you to join a class based on your child's age and developmental stage. When in doubt, the Baumhaus team is here to help you find where your child fits best.
Lap and Crawling Babies
Foundations classes offer a sensory-rich yet caring and gentle environment where infants and young toddlers can explore and react to new sounds, sensations, objects and movements.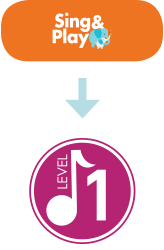 Walking
Toddlers
Level 1 classes provide toddlers with a stimulating setting to explore their new movements and language skills with a sense of security, comfort and confidence.
Talking Toddlers
Level 2 classes encourage older toddlers to initiate their own ideas, nurturing social-emotional growth and cognitive developments in playful exploration.
Musical
Pre-Education
Level 3 classes are designed to engage preschoolers' natural love of music and activate their imaginations, all while developing their growing language and social-emotional skills.
Don't forget to invite your friends...
the Baumhaus Referral Program
Refer a friend, earn a term!*
Baumhaus is nothing without the people that support us and we are excited to introduce a new way to reward our clients for recommending our creative arts classes to their friends and family.

*Terms and conditions apply. Click here for more details.